I began to spend as much time as possible researching old racing magazines, books, and connecting with current and past owners of Spyders.  I knew once I had found the right coachbuilder that it would be up to me to present as much information as possible on 0141.  The best case scenario would be to have an original example of a 550A present for the coachbuilder to template from. During this time I visited with many of the best coach builders in the US and Canada and while I had collected many original photos of 0141 and other related materials two more years passed and I still was hesitant to commit with any shop until I could be absolutely sure they would be up to the project demands.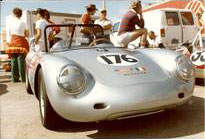 During this time I was visiting with Warren Eads of Rancho Palos Verdes, and then in Novato as he moved north.  He is one of the worlds leading experts on these cars and he also owned and raced a 550A which was just a couple of chassis numbers from mine with only 6,000 miles on it when he first obtained it. Warren was very interested in a 59 GS/GT lightweight I owned and came up to visit and see the car as it was being stored on Anderson Island.
I decided to sell the car only because he had something very interesting as a partial trade toward the GS/GT.  My dad and I then made the trip to Novato to deliver the lightweight.  Over dinner that night, Warren mentioned he had been approached by a gentleman in Europe to manage the re-bodiment and complete restoration of his Spyder, # 0129 and asked if I was ready to proceed with my body replacement. He felt by combining the projects we could realize some efficiencies and cost savings.  I saw the value, and explained I was ready, but I had not found the right coachbuilder yet.  Warren laughed.  "Steve", he said, "meet me in Lake Havasu next week as I would like to introduce you to a couple of friends of mine."
The next week I flew into Vegas and drove the balance into Lake Havasu, meeting up with Warren at a small shop in a business park just on the outskirts of town.  Lake Havasu City is just about as far as you can get from civilization.  More like an oasis situated on the boarder between California and Arizona on the Colorado River.  But then Du Bois, Wyoming isn't exactly a bustling center of activity either.  I hear Lake Havasu is a great spot once a year when all the college kids show up for spring break, but I was there for another reason.
I was introduced to two brothers from New Zealand who had done much work for Warren in the past and whom Warren had selected to perform the re-bodiment on 0129.  In their shop was a 550, or should I say, part of a 550.  On their chassis table was the rear half of the ladder frame, that is, the body and the front portion of the frame was cut away.  I had read about this car.  While racing at Laguna Seca it had plowed into an abutment almost killing the driver.  It was now up to these two brothers to bring this Spyder back from the dead, but from what I saw these guys would have to walk on water to be able re-create this one .  During the visit I began to feel more confident in this shop's abilities, but I still could not give Warren a green light.
He understood and as I was leaving, saying goodbye, the one brother said, "Steve, I have something to show you."  He took me to the shop next door, turned on the lights, and there was this beautiful Lister, green with all the rivet heads polished and showing.  "Steve, we built this from a chassis plate and the original factory drawings.  We built the frame and body from scratch".  I was truly impressed, but this decision would take more considerations and I was not prepared to make a decision during this short visit.  I explained my situation and Bruce understood.  His parting words were, "hope to see you again soon, mate."
Another year went by and while in Carmel during the vintage races I spotted this gorgeous 550 Spyder competing in its class and winning.  I ran into Warren and, of course, asked if I was ready to move forward.  "Steve", he said, "remember that portion of a frame for a 550 Spyder you saw on the chassis table in Lake Havasu last year?  Well that's the same 550 that just crossed the finish line."  I could not believe it!  Later in the week that same Spyder competed in the Concourse at Pebble Beach and won its class and was voted by the editor of one of the most prestigious sports car magazines, as the one car he would want to take home from the event.  It was then I knew I had found the right shop to perform their magic on 0141 and threw my hat into this ring.  The next month I delivered 0141 to the shop in Lake Havasu just as 0129 had arrived from Europe and Warren's original 550A, #0135 arrived from Southern California which would be the basic template for these two projects.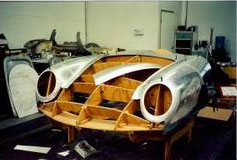 Time went by and the projects moved ahead slowly, but I would say with great attention to detail by the main coachbuilder, Bruce.  They started by building a wooden body buck using Warren's car to model from.
I ended up taking my vacation time each of the next two years staying in Lake Havasu working from 8 in the morning till at least 8 at night at the shop helping in any way I could.  They trained me on some of the processes, not that I was much help, but I learned a lot and had a great time.  Bruce and his brother had completely re-bodied or had done some measure of work on ½ the entire remaining original Cobras.  We became very good friends and after the long days we would go out for dinner and refreshments.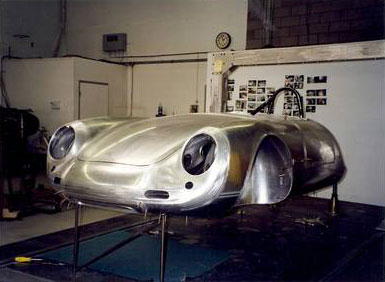 "Too bad," Bruce said, "you didn't have a Cobra, as they are very easy to re-body, not much to them". "But your Spyder is one of the most difficult due to the way it's constructed with all the inner panels".  He estimated 1200 hours would be needed to due a complete re-bodyment for each of the Spyders.
There were always interesting cars in the shop with owners who's names you would certainly know.  Bruce explained one night over dinner that my car may be the last job he could do for an outside customer as there was one of his clients who had made him a great offer to contract 100% of his time to work on just his projects.
Soon it would be time to pick up 0141 and transport it to Billy's shop in Du Bois, Wyoming, but my dad would not be joining me on this one as he had been diagnosed with pancreatic & liver cancer and was very ill.  While dad had some good times and some very bad times in the war, like getting caught in Bastogne during the German breakout in late 44, he was now facing his greatest fight.  The doctors didn't give the old WW II veteran much of a chance, but then they didn't know how tough this guy was.  Surgery, chemo, radiation, no greater torture could have been dealt.  He is today one of those five-percenters.  Eight years has passed since his bout and he is still with us, on his own, still in the same home on the water that hosted so many visits from around the world to this tiny island.
A friend from work, Troy, joined me on the long trip from Seattle to Lake Havasu.  I was driving my old 76 Ford pickup with a built 390, towing a double axle car trailer.  We rolled into town on the afternoon of the second day and boy, it was hot!  I found certain things that needed some attention, so we ended up spending the next three days along- side Bruce as he worked his magic.  While there a customer of Bruce's came in to visit.  I was startled.  I had heard he was a car collector at the highest end but to see him in person was a real treat.  This was something like the icing on the cake because he new cars and was very impressed with the work on the Spyder and had nothing but kind words for the way the project was turning out.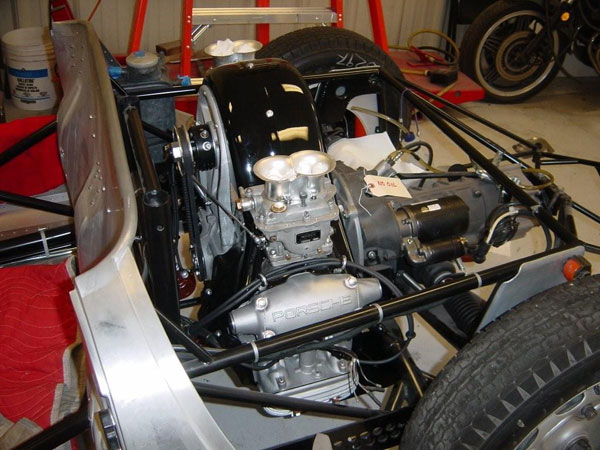 We got things loaded-up and decided to travel that night while it was cool, hoping we could get into some elevation and cooler weather by the next day.  If you look at a map and find Du Bois, it's kinda like "you can't get there from here."  Two days later we arrived at Bill's shop, backed up to the rollup door, and took the tarp off of 0141, exposing the car and my high anxiety as to what Bill's reaction would be.  Bill simply said, "let's get er into the shop."  We slowly pushed 0141 down the ramps and into some better lighting.  Bill's eyes grew large, but he didn't say anything.  He grabbed a tape measure and went around the car checking some of the critical areas.  After about 20 minutes, I could hear him say to himself, "beautiful, simply beautiful!"  He looked up, "good job Steve, looks like you are on your way to owning a nice car"  "Now we can get started on what makes this thing go!"
This was total gratification for me.  I felt as if a great weight had been lifted, as it was some years earlier it was Billy telling me the bodywork just was not going to cut it.  That night we drove over the Continental Divide into Jackson and a great dinner in the basement of the Cowboy Bar with Troy, Bill and Jack Daniels.
Part 4 coming soon.