Many of us have taken on a restoration project of our beloved Porsche for any one of several reasons.  Often, it becomes more than we bargained for and sometimes the project takes on a life of its own; demanding more of our time and money that we are able to give.  This is only one of those stories, no more important or less than your own experiences in bringing a Porsche back from near death to the point of being able to compete at the concourse level and bring home top honors. I have been involved with several 356 restorations but nothing would challenge my abilities more than the project I took on starting in 1984 and still continues to this day.  The car is a Porsche Spyder, vin number 550A-141.   Story and photos by Steve Terrien.
"The History"
It is important to say, you must have great patience when taking on a major restoration project, but first get your priorities strait.  When collecting cars in the 70's & 80's I was single with a great job and could afford pushing these projects along at a good pace.  But when you have family, they have the first calling and so when I married, had children, the cars had to settle into a lower priority position.  Today I have a daughter just graduating from Holy Names Academy here in Seattle, heading off to NYU this fall, and a son at O'Dea.  A couple of good reasons why 141 has taken longer than I would have liked.
Because these cars are so rare and each had their own unique look and character as they left the factory they are known by their chassis number.  The greatest challenge of this particular project is the issue with the car needing a complete re-bodiment.  141 had been a racing workhorse throughout the late 50's and 60's from Europe to the US.  The front half of the car had been destroyed in a fire; the rear section of the car was original but was so metal fatigued that you could practically have pushed your finger through the aluminum.  In tracking down original photos taken back in the day to be used for the re-bodiment process, I soon realized 141 had a history and a story worthy of telling.
First a little technical information on the 550A.  Most of us are familure with the 550 Spyder, which used a ladder steel frame, aluminum body, center mounted 4 cam Fuhrmann engine and basically a VW suspension and transmission.  The 550A was the next true race car in a constant migration for Porsche utilizing a steel tube space frame, aluminum body, more powerful motor, 5 speed gear box, and true swing arm rear axles.  Suspension remained basically the same as the 550's.
Porsche built approximately 39 550A's, the first one came out of the Zuffenhausen factory in 1956 and was immedialy taken to Sicily to compete in the "56" Targa Florio. A very prestigious race with Porsche competing against all the home town favorites, Ferrari, Masserati and others.  But the little 1500 c.c. giant killer won outright.  This was Porsche's first ever win at this very demanding and competitive course.  With this win the Porsche factory received worldwide recognition in defeating the worlds best.
550A-141 was constructed at Zuffenhausen in March of 1958 and was sent to the Piech family in Salzburg, Austria.  The Piech family was the Porsche Importer for Austria as well as being married into the Porsche family.  141 was campaigned that year in several races and hill climbs under Racing Director Herbert Kaes, Ferdinand Porsche's Nephew, and driver Ernst Vogel.  Ernst Vogel is standing next to 141 wearing a tie.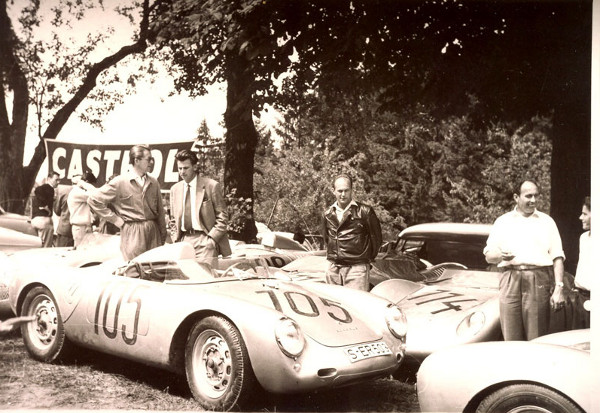 This picture was taken at the Gaisburg Hill Climb in August of 1958.  The Gaisburg Hill Climb is now a very popular vintage race held each August just outside of Salzburg.  Ernst had many wins in Europe that year in 141 including a speed record attempt on the Autobahn and was named Austria's Hill Climb Champion for 1958.  Today Ernst is not known for his driving skills, but rather as a composer and concert pianist.  In an article written by one of Ernst students where he was remembered as a great teacher and father figure he explained, "One of Ernst favorite times was to drive his Porsche through the Alps at high speed with a bottle of Cognac between his legs".  I like this guy!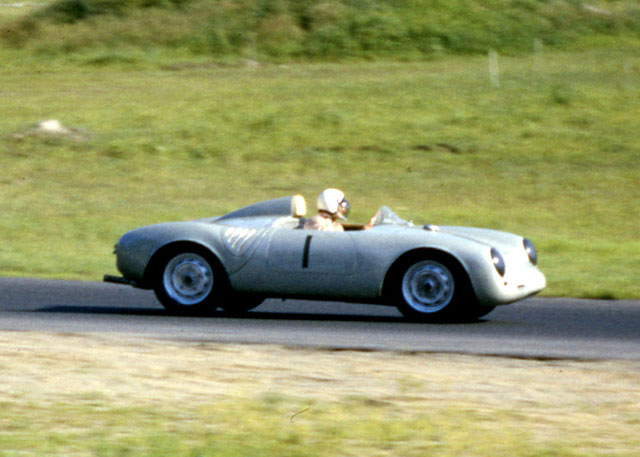 Herbert Kaes was racing against the more competitive RSK's in "58" and so 141 was returned to the Porsche factory in 1959 in exchange for an RSK.  141 was then refurbished by the factory and re-sold to Harry Blanchard, a Porsche dealer and racing enthusiast in Connecticut.  Pictured, Harry Blanchard in 141 at Lime Rock, 1959.
Harry had many wins during 1959 on the east coast in 141 including, wins at the 59 SCCA Nationals Marlboro, Bridgehampton and 2nd at the SCCA Nationals Watkins Glen but was killed while driving a factory RSK in Buenos Aries.  The car was sold to Millard Ripley who also competed in many races on the east coast.  Pictured below 141 finishes 2nd behind Roger Penske in an RSK at the 59 Berwick race.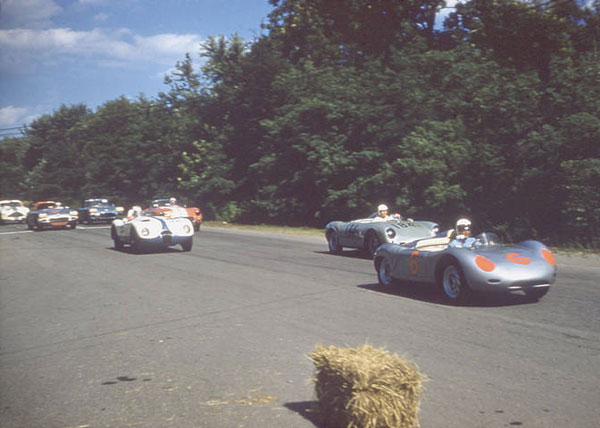 The car was then sold to Chuck Stoddard in 1961 who campaigned 141 in several east coast venues going through 3 engines in his short time of ownership.  Pictured below is a photo of Chuck at speed in 141 at the Elkhart Lake race, 1962.  (Picture from Chuck Stoddard Racing Memoirs authored by Mr. Bob Kendall)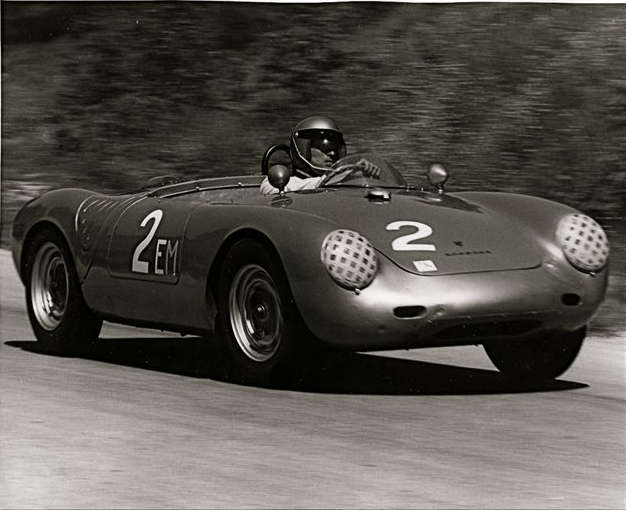 After Stoddard's ownership the next notable owner was Joel Neshkin of Birmingham, Alabama.  Joel raced the Spyder in the later half of the 60's and into the early 70's.  Joel remained competitive by installing a 1700 c.c. flat fan engine into 141.  After many years of racing 141 was now showing its age and during a race at Road Atlanta, Joel was hit by a Corvette who had lost his brakes causing a fair amount of body damage.  Joel stored 141 in his basement which unfortunately was near the "gas" hot water heater.  A big problem was 141 was leaking fuel and the pilot light from the heater started a fire.  141 lost the original front body section to the fire, but this did not stop 141 from continuing racing.  Joel mounted a Devon body on the Spyder and kept on racing.  Joel sold 141 in 1972, the rolling chassis to one individual and 3 engines to another party.
This was the end of a long road of competitive racing for 141.  He had served his masters well, but after 15 years on the grid, it was now destined to become a parts car for the remaining 550A's and be forgotten; except in the memories those who sat in those high bolster racing seats, had hands on the VDM wood wheel and put their foot into the 4 cam motor with a roar that had certainly deafened.  Maybe it was time to fade away and disappear, but there still may be a slim chance 141 would not end up on the scrap heap.
(To be continued)